Today we're going to be reviewing the H-Proof hangover prevention supplement to see where it ranks against other hangover products.
So-called "hangover supplements" are becoming pretty popular nowadays with many different brands, all of which claim to be the best.
Their website claims that H-Proof "boosts alcohol metabolism, restores vital nutrients and detoxifies the liver".
But can H-Proof really compete with the best products on the market?
In this review, we're going to take a close look at the H-Proof hangover supplement from Kaplan Laboratory, paying particularly close attention to the ingredients formula, the doses, and what customers are saying about this supplement.
We'll then see if this product makes it onto our list of the best hangover supplements on sale right now.
Product Overview
H-Proof is made by Kaplan laboratories. To date, it's their only product and has been designed by a mother and daughter duo, Rachel and Linda Kaplan.
Rachel boasts an impressive marketing background and Linda is a surgeon.
Their website and product packaging reinforce that their product is "doctor-developed". We're not sure if that means it's been research and formulated by her mother (who is a surgeon), or not.
Initially, they tried to raise investment via the popular crowdfunding platform Indiegogo, but it seems that they were unable to reach their target.
H-Proof is different from most hangover supplements on the market because of the fact it's chewable instead of conventional pills or drinks.
Over the years, we've learned not to pay too much attention to marketing tactics. Using a surgeon's credentials or having a chewable supplement can distract from what's important.
And what really matters is the ingredients it's made of. After all, this is what's going to determine whether H-proof is worth investing in.
H-Proof Hangover Supplement Ingredients
So, let's take a closer look at the ingredients table below.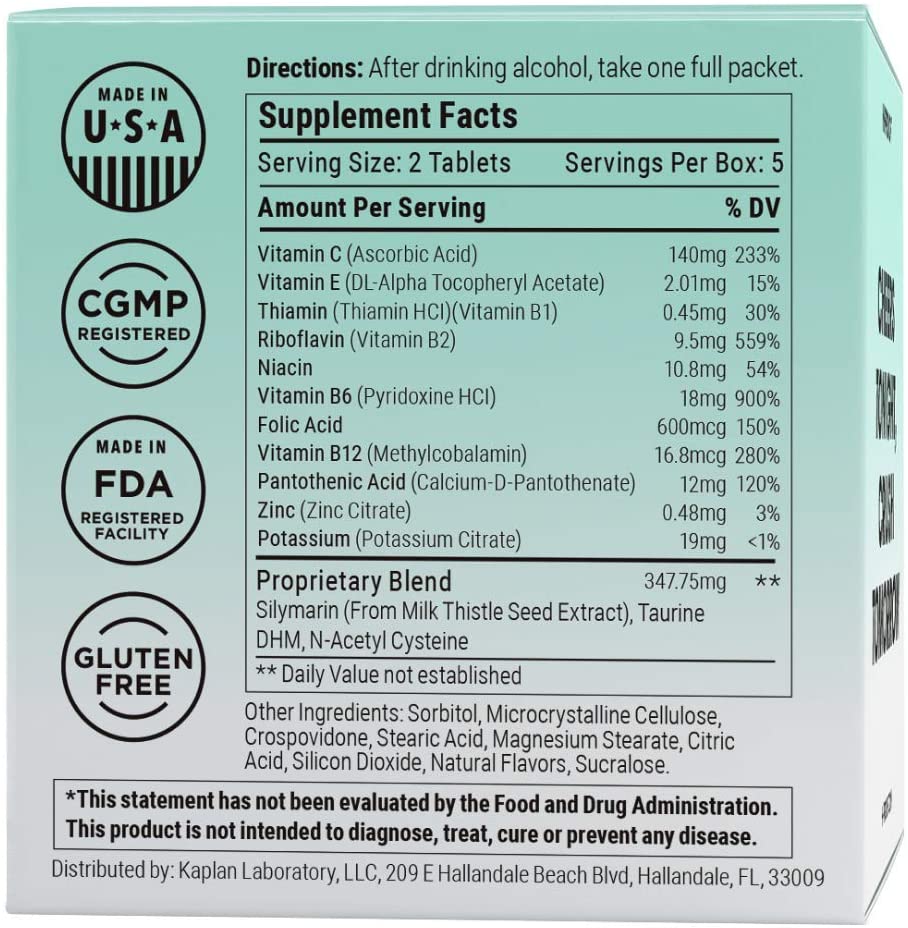 H-Proof hangover supplement contains 15 ingredients.
The first thing we notice is that H-Proof uses a proprietary blend, for its key ingredients which is disappointing.
The problem with proprietary blends is that the doses of the ingredients in it are concealed. Manufacturers often use proprietary blends because they are cheaper to produce and increase margins.
With that said, let's start by looking at the ingredients in the proprietary blend first.
Dihydromyricetin (DHM): There's a lot of hype around DHM as one of the best supplements for hangover prevention. The reason is, a few studies have shown it increases alcohol metabolism and reduces hangover symptoms. With that said, research is still in its early days and requires a lot more to fully prove its benefits.(1)
Milk Thistle: Traditionally used as a liver health supplement, people swear by milk thistle as a hangover remedy. So it's good to see H-Proof have included it in their formulation.
Taurine: You've probably seen taurine in your favorite energy drinks. This amino acid increases energy levels, especially when combined with caffeine.
N-Acetyl Cysteine (NAC): This amino acid is the precursor to glutathione which is the body's master antioxidant. That's why NAC is commonly used as an ingredient in detox blends.
It's important to highlight that the total weight of their propriety blend is 347.75 mg. To put that into perspective, other hangover supplements such as AfterDrink or Cheers, which use the same ingredients, use a combined weight of around 1000 mg.
So we immediately know that the doses in H-Proof are small. That's despite not being able to see the exact amounts in the proprietary blend.
Aside from the ingredients mentioned above. H-Proof contains a selection of B vitamins, as well as vitamin C and Zinc. You'll find these ingredients in most, if not all, hangover supplements on the market.
What ingredients are missing from H-Proof?
So, now that we've taken a look at the ingredients in H-Proof hangover supplement, we can now take a closer look at what's missing.
Alcohol causes damage by many different mechanisms. These include dehydration, inflammation, sleep disruption, and congeners to mention a few.
That's why when we come to choosing the best hangover supplements, we like to make sure all angles are covered. We also like to see the following ingredients:
Ginger – Natural anti-sickness remedy that's ideal for hangover nausea.
Korean ginseng – Shown in studies to speed up alcohol metabolism.
Piperine – increases the absorption of B-vitamins among other nutrients.
Prickly pear – Shown in studies to reduce hangover symptoms by reducing inflammation.
How do you take H-Proof?
H-Proof instructions say that you should take two chewable tablets at the end of your night.
It's important that you follow this dosing regime. That's because if you forget to take H-Proof and instead take it in the morning when you're already hungover, it's too late. The ingredients are designed to work while alcohol is still in your system.
A point to note is that H-Proof supplements are pretty expensive. On Amazon, they sell for around $29 for 5 packets. That means each serving (two chewable tablets) is $5.79. This is a little more expensive than its competitors.
H-Proof customer reviews
At the time of writing, H-Proof hangover supplement has 35 reviews on Amazon with an average of 3.9 out of 5.
As you'd expect, there are positive and negative reviews. Several customers found that H-Proof reduced their hangover symptoms. On the other hand, for some, it didn't work and didn't like the taste.
This is to be expected from all supplements though. Not everyone will see positive results and the taste is subjective.
Are there any side effects?
The ingredients in H-Proof are natural and generally regarded as safe to take. With that said, everyone is different and may experience side effects.
If you're taking medication or have any medical problems, you should ideally speak to your doctor before taking any new supplements.
Additional things to think about
You can prevent getting hangovers by drinking within your limits, slowing down how fast you drink as well as having a meal before going out.
If you're expecting to get wasted and wake up fresh after taking H-Proof you'll be disappointed. The same applies to any hangover pill you find on the market.
H-Proof hangover supplement review – Final verdict
So, there you have our H-Proof hangover supplement review. They include most of the ingredients we like to see in hangover supplements.
If you're interested in finding out what the best supplements on the market right now are, follow the link below.