By Devin Bohbrink
Updated on February 07, 2023
Hangover pills are all the rage, but it's important to do your research before trying them. While most advertise all-natural ingredients, keep in mind that allergic reactions could happen if you aren't aware of the ingredients. 
Another thing to consider is that hangover pills are not intended to get rid of your hangover, but they may improve symptoms. The only way to completely avoid a hangover is to stay away from alcohol. With that being said, hangover pills can be a great addition to your hangover arsenal. Let's talk about the Better Morning hangover pill and we'll give you our review. 
Company background 
The company that manufactures Better Morning is BetterBrand. The website emphasizes research and validation for ingredients overseen by a medical advisory board. The company offers a variety of products along with hangover pills that boast all-natural ingredients that are tested and approved before selling. 
The website states that BetterBrand cross-references all products with the latest scientific research to understand everything from function to potential interactions. Their entire message revolves around scientifically backed products.
Better Morning ingredients 
Regardless of how much scientific research a hangover pill claims to have behind it, it's always important to look at the ingredients. We're going to go over the ingredients in Better Morning, which are advertised as all-natural.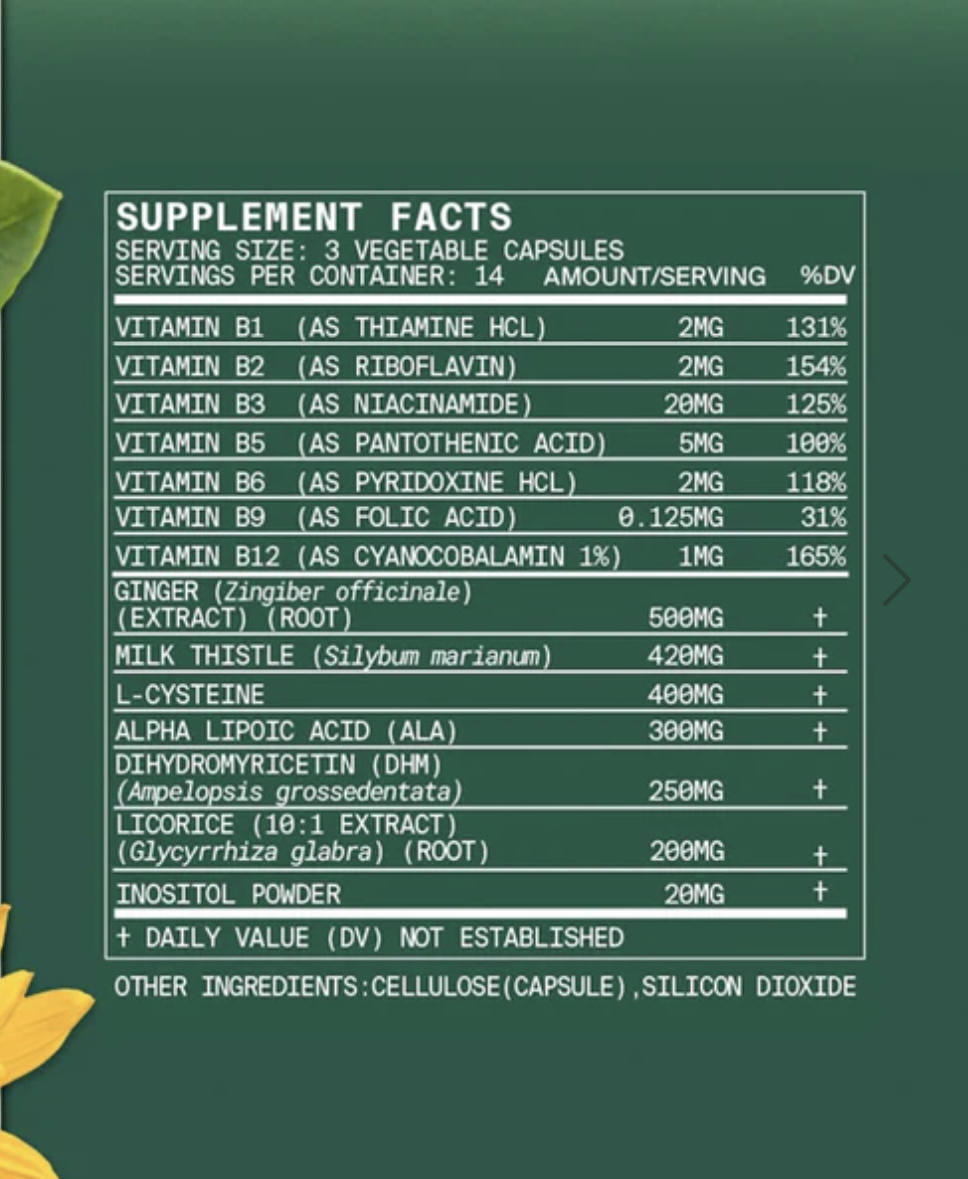 Taking a look at the Better Morning ingredients, you'll notice a lot of B Vitamins. Another thing we like is that Better Morning doesn't use a proprietary blend. The label shows exact ingredients and exact doses so you know what you're getting. We consider this a good thing, since B Vitamin research has shown that they may reduce hangover symptoms. 
Along with B Vitamins, Better Morning has 250mg of one of our favorite hangover pill ingredients, dihydromyricetin (DHM.) DHM research has shown that it may speed up alcohol metabolization to reduce hangover symptoms. It's also known to minimize GABAa rebound which can reduce symptoms of 'hangxiety.' In fact, the BetterBrand website advertises that Better Morning can help you fight the 'Sunday Scaries.' More research must be done to prove this, but it's become a common ingredient in hangover pills. 
Better Morning also has high doses of L-Cysteine and milk thistle which have also been researched in regards to hangovers. Milk thistle has long been associated with liver health, so we love to see it in a hangover pill. L-cysteine helps the body heal from toxins such as alcohol. 
One ingredient that sticks out to us in Better Morning is licorice. You don't see this often in hangover pills, but research has shown that this natural supplement soothes digestion and promotes healthy liver enzyme production. 
Overall, the combination of ingredients in Better Morning may be able to reduce hangover symptoms effectively. 
How does Better Morning work?
Now that we know what's in Better Morning, how does it work? To understand how hangover pills work, we need to know what exactly is causing hangover symptoms to begin with. Typically, the main factors that will cause a hangover are:
Dehydration

Poor sleep

Inflammation

GI issues 

Low blood sugar 
As your body is trying to metabolize the alcohol you ingested it's going to take a toll. Hangover pills like Better Morning are designed to give your liver a boost along with the rest of your body as it works to metabolize. 
We cannot stress enough that Better Morning is NOT a hangover cure. The supplement is intended to be taken to naturally lessen your symptoms. 
How do you take Better Morning? 
When taking hangover pills, it's important to reference the label for instructions. They must be taken properly in order to work. The label states that one serving is 3 capsules, and each bottle has 14 servings. 
Better Morning should be taken the night before to ensure it's in your system by the morning. Once you're hungover, the damage is already done. The supplements aren't going to do anything if you wait too long. So, a good rule of thumb is to take them while you're out or before you go to bed. 
Better Morning reviews 
Better Morning has a 3.8 out of 5 on Amazon reviews, with several positives. Of course, as with any supplement there will be naysayers and those who expect it to be a miracle cure. Here are some of the customer reviews:
"I was so skeptical….but I'm a full blown advocate. I get hangovers/symptoms almost every time I drink. I've taken these twice and felt GREAT waking up the next morning both times. Only symptom was a little tired but no headache, grogginess or nausea. Lifesaver for anyone who gets hungover easy!!"
"It may not completely prevent a hangover but I've noticed the severity of morning-after side effects of drinking are significantly reduced and my general recovery is much faster. I never remember to take them before drinking but now I pop a few with a big glass of water before going to bed and it still does the trick."
Are there any side effects?
Since the ingredients are all natural, there are no listed side effects for Better Morning. Keep in mind that with any supplement, you should know what's in it. If you have allergies or underlying conditions, consult with your physician before taking Better Morning to ensure you'll have no reactions. 
How much does it cost?
Better Morning is $34.95 USD for 42 capsules, equating 14 servings. This is pretty reasonable for a few months worth of supplements, depending on how much you drink. They also offer a subscribe and save feature, and 25% off your first order. 
Is Better Morning FDA approved?
The FDA does not approve hangover supplements specifically, but they do regulate some of the ingredients that are in them. 
Anything else to consider?
Better Morning is a great supplement to add to your arsenal if you aren't already taking B Vitamins. Again, it's not intended to be a hangover cure, but a way to potentially relieve symptoms. 
Final Thoughts on Better Morning
Overall, Better Morning is a great hangover pill and we like that they have a medical advisory board and stress research. It's worth giving it a try. Cheers!