With so many "recovery pills" on the market, it can be hard to know which one is really the best. In today's article, we put two of the best-known brands side by side to see which one comes out on top.
AfterDrink and Flyby have both been around for a few years now and have loyal customers with established brands.
But which one of these recovery pills gives you the most bang for your buck?
That's what we'll find out today. We're going to base our review on the following key metrics:
• Company Reputation and reviews
• The Ingredients and Dosages
• The Servings
• Potential Side Effects
• Price
So, with the introductions out the way, let's get straight into our AfterDrink Vs Flyby comparison.
Company reputations
With years of experience under their belt, AfterDrink and Flyby have both refined their ingredients product to match the ever-growing competition.
Both products boast an array of antioxidant vitamins, minerals, and herbal extracts that claim to support liver function and help your body efficiently rid itself of toxic by-products formed when alcohol is metabolized in your liver.
Therefore, AfterDrink and Flyby are designed to achieve the same thing – reduce the severity of your how you feel after a night out.
That means, the most important thing to consider when deciding between AfterDrink and Flyby is what ingredients they include in their formula. Because ultimately, this is what really matters when deciding which recovery pill to invest in.
And that's exactly what we'll take a closer look into next.
Ingredients and dose comparison
When you take a closer look at the labels, the first thing you'll notice is that Flyby uses a proprietary blend. This is when the exact doses are hidden in a pre-mixed blend. As a result, you won't know exactly how much of each ingredient you're getting.
With that out the way, let's compare the formulas, side by side.
AfterDrink Ingredients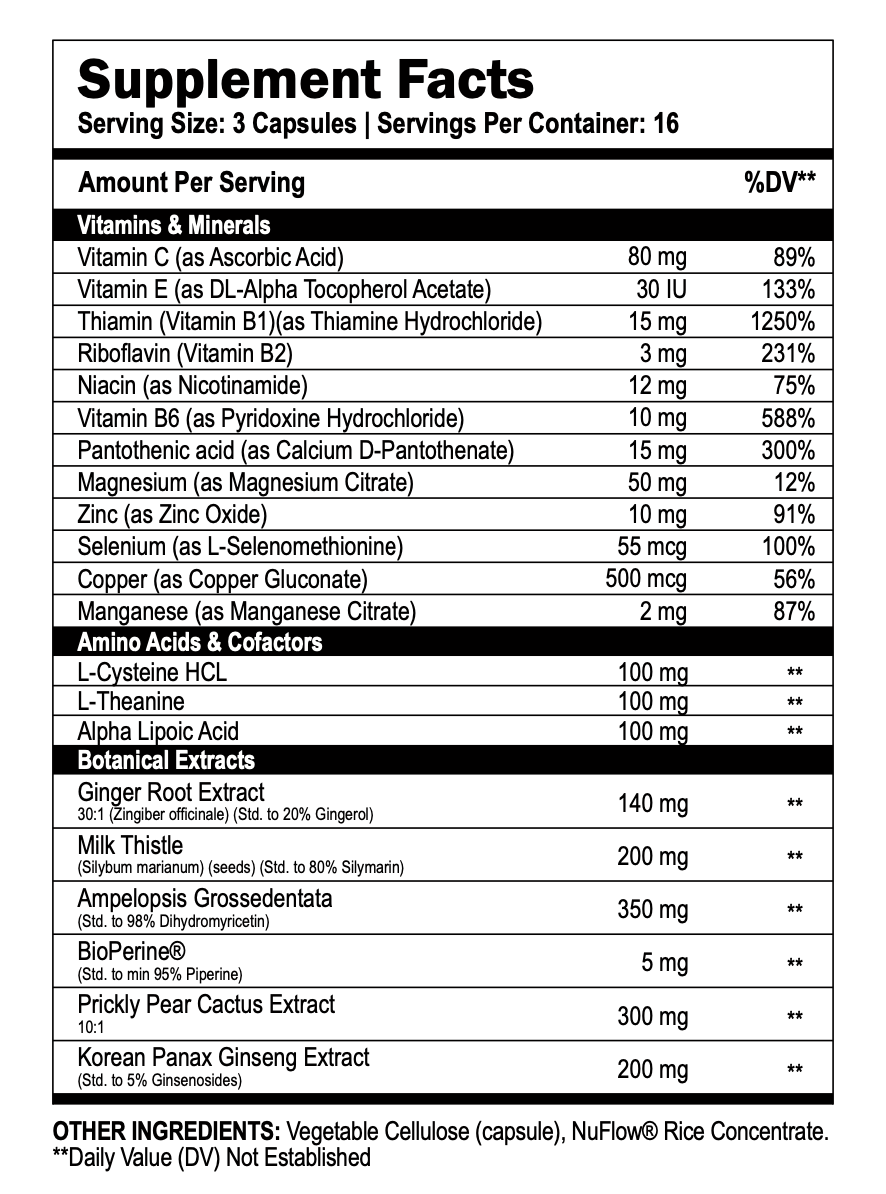 Flyby Ingredients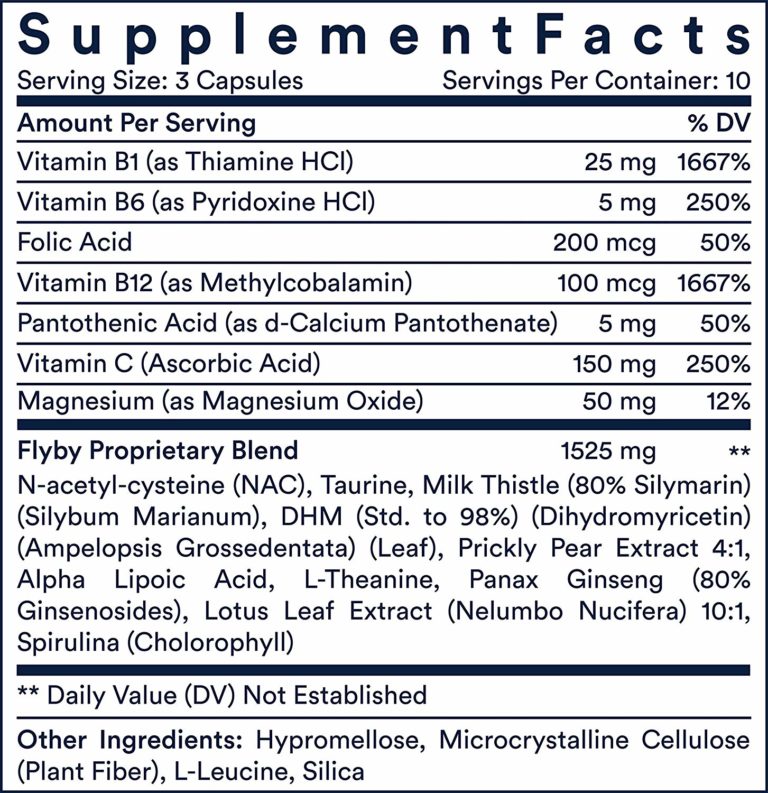 Vitamins and Minerals
You can see that the foundation of any good recovery pill is built a core of B vitamins. In particular, vitamin B1, B2, B3, and B6 are crucial cofactors in the metabolism of alcohol and it's by-products.
Flyby doesn't include B2 and B3. Whereas AfterDrink doesn't include B12. Vitamin B12 is less relevant when it comes to alcohol because it's involved in the healthy formation of red blood cells and the normal functioning of your nervous system. You can read about vitamin B12 for hangovers in our detailed article on this subject.
Herbal extracts
You'll notice that both AfterDrink and Flyby include a very similar selection of herbal extracts. The key being DHM which has been shown in some studies to speed up alcohol metabolism.
With that said, we like the fact that AfterDrink also includes ginger which is a natural "anti-emetic". This means it is known to reduce nausea which is a problem for many of us after drinking alcohol.(1)
Amino acids
Once again, both AfterDrink and Flyby include alpha-lipoic acid, L-theanine, and NAC in their formula for added measure. You can find out more about amino acids for hangovers here.
Serving size
The serving size and dosing for AfterDrink and Flyby are identical. Both supplements recommend taking 3 capsules before your first drink and 3 after your last drink.
It may sound like a lot of pills to take, but both brands maintain that it's important you take as recommended to get a decent dose of all the ingredients.
Price and value for money
At the time of writing AfterDrink costs $35 for 48 capsules (8 nights out)
Flyby costs $35 for 90 capsules (15 nights out)
That means that Flyby is the cheaper product of the two per serving.
Potential side effects
AfterDrink and Flyby are both made with natural ingredients with no medicines or artificial colorings. Therefore, side effect profiles are low.
With that said, everyone is different and could potentially have reactions to any one of the ingredients. That's why it's important to read the label closely before taking a new supplement to make sure it doesn't include something that you're intolerant or allergic to.
Reassuringly, AfterDrink, and Flyby are manufactured in the USA in facilities that adhere to good manufacturing practice (GMP) guidelines.
AfterDrink Vs Flyby – Final verdict
That brings us to the end of our comparison between AfterDrink and Flyby.
In terms of price, Flyby is cheaper per serving.
AfterDrink does not use a proprietary blend and contains premium ingredients.
Both are quality products, with AFTERDRINK having a more premium price tag and formula.