I love juicing! It's like mainlining delicious fruit and veggie goodness into your body. That's why when I came across this amazing hangover juicing recipe from the Blender Babes, I had to share it here. It's dairy free too, so double win if your lactose intolerant/allergic to dairy like myself.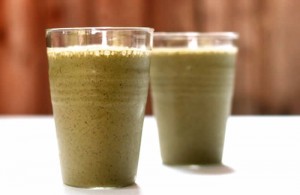 Whether it's after a holiday, or any day that ends in 'y', every now and again you may choose to have a few too many drinks! Frozen drinks by the pool, an Irish coffee, or even a green margarita are all fun to make in your Blendtec or Vitamix blender, but the reaction of alcohol in the body can sometimes leave you feeling it the NEXT day! We've tested this recipe with several of our Blender Babes community members after a big night out – does the trick! If you try it let us know, including what you did to make you drink it! 😉

When alcohol reaches your brain, it tells your pituitary gland to stop producing vasopressin, your body's water retention regulator. Without vasopressin, your kidneys begin to drain your body – and those trips to the bathroom also wash out salts and electrolytes that will lead to nausea and fatigue. Alcohol also inhibits glucose production, thereby reducing energy levels. When you stop drinking, glucose production skyrockets – usually right when you're going to bed – and results in your brain's high energy levels causing a restless nights' sleep and poor energy levels in the morning — a hangover.

Your brain is also smaller the next morning, since your cells are compensating for missing water by pulling water from your brain! That pounding headache is dehydration. We've made this hangover remedy with all of this in mind, in particular, how to maximally hydrate and regulate blood sugar levels while introducing some natural sugars to give you more energy. WE KNOW IT WILL HELP (i.e. several in our Blender Babes community of "tested" it, hehe)!
A brilliant explanation of the science behind the juice. Here's the recipe:
Hangover RX Remedy Juice
Wake up with a throbbing headache? Your brain needs HYDRATION! Use this to recover after a late night out.
Author: Blender Babes
Recipe type: Juice
Serves: One 12 oz serving
Ingredients

8 ounces coconut water
1 cup apple (1 small apple, cored)
1 teaspoon up to 1 tablespoon e3live (frozen or powder) or spirulina powder
1/8 teaspoon turmeric (fresh OR ground)
1/8 teaspoon cinnamon
2 cups of ice
Instructions

Place ingredients in your blender in the order listed.
For Blendtec: Run the WHOLE JUICE cycle.
For Vitamix: Blend on Speed/Variable 10/HIGH for 1 minute.
Pour into glasses and ENJOY! This is ONE serving, so drink it ALL, and feel the benefits!