We review one of the older hangover cure products on the market called Sobur, which claims that its main ingredient, a Chinese herbal extract called DHM, is the secret to sobering up after drinking and "banishing your hangover"
Sobur is a hangover cure supplement that uses a Chinese herbal tree extract called DHM or Dihydromyricetin to sober you up 30 minutes to 1 hour after drinking and 'banishes hangovers' for the next day.
The company that runs Sobur kindly sent us over a 20 pack of their product and a bottle of fine whisky in order to see if their product is the real deal. We accepted the challenge and can finally reveal the results here for the HangoverCure.org readers.
What Is Sobur?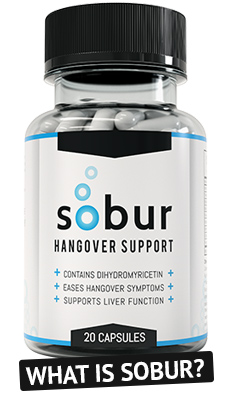 Sobur, as the owners state on their website, is a hangover cure supplement that with one tablet can help you:
Instantly recover after lots of drinking
Protect your brain & body
Wake up feeling energised & healthy
The main page of their website explains:
"The natural ingredients contained within Sobur combine to help your body process alcohol quicker, protect your liver, and bring the chemicals in your brain back to regular (sober) levels.

To prevent a hangover using Sobur, take 1-2 capsules before bed with plenty of water. The herbal extract Dihydromyricetin (DHM), the main ingredient in Sobur, works as a potent anti-oxidant and lowers the amount of GABA in the brain, a neurotransmitter that alcohol increases drastically. A flood of the inhibitory neurotransmitter GABA causes communication between neurons in the brain to slow down, decreasing cognition, fine motor skills, judgement, and inhibitions.
Sobur make some pretty bold claims on their website – now let's see whether it can really live up to the hype or not.
So without further ado, lets get into the detail.
What's this dihydromyricetin stuff?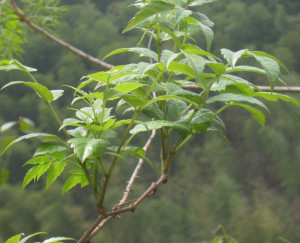 A quick google search brings up the DHM ingredient that they mentioned. It's an oriental tree herbal extract that has been made popular by a study performed in the USA where they got mice drunk and then sobered them up again using the ingredient. The Sobur website on dihydromyricetin explains:
Dihydromyricetin, also known as Ampelopsin, is the active ingredient in Sobur that essentially removes the brain fog that excessive alcohol consumption causes.

Research has been ongoing since 2007 and even double blind tests have been met with the same amazing results, near zero side effects from binge drinking and a reduction in a desire to drink. DHM is a flavinol of an ancient tree that continues to show counteractive effects of acute alcohol (EtOH) intoxication.
Apparently, this dihydromyricetin ingredient is supposed to be the bees knees and is the core ingredient of the Sobur product. But what other ingredients does Sobur contain?
Sobur Ingredients: What Is In It?
They seem to be very open about the ingredients of their product compared to most supplement companies, even stating mg amounts of each ingredient per capsule on the website. Besides Dihydromyricetin/DHM, Sobur contains:
The N-Acetyl L-Carnitine (NAC), Vitamin C and Vitamin B combination work to detoxify the liver, destroy nasty toxins left behind after alcohol consumption and restore vital nutrients and minerals in the body, getting you back into prime form the day after a big night of drinking.
More specifically, the ingredients list on the website is listed as, per capsule:
300mg Dihydromyricetin
100mg N-Acetyl L-Carnitine
200mg Vitamin C
Vitamin B mix (Niacin, B6, B5, B12 etc)
There is a note on the packaging highlighting the fact that Sobur capsules are also made using a plant-based gelatine and the ingredients are vegetarian/Kosher friendly.
The Final Verdict
Sobur is an old boy on the block. They've got a great product with a strong reputation.
Check out our pick of the best products on the market by following the link below.