By Catherine
Updated on June 23, 2020
Today we're going to be reviewing Over-EZ hangover pills to see where it ranks against other hangover products.
So-called "hangover supplements" are becoming pretty popular nowadays with many different brands, all of which claim to be the best.
Looking at their website, Over-EZ claims to help you wake up "hangover-free" with just one pill.
Sound too good to be true?
That's what we're going to find out today. In this review, we're going to take a close look at Over-EZ pills, paying particularly close attention to the ingredients formula, the doses, and what customers are saying about this supplement.
We'll then see if this product makes it onto our list of the best hangover pills on sale right now.
So, with the introductions out the way, let's get straight into our Over-EZ review and kick things off with examining the most important thing; the ingredients.
Over-EZ pill ingredients
The best way to examine the ingredients is to look directly and the label. Over EZ contains 14 ingredients all packed into a single pill.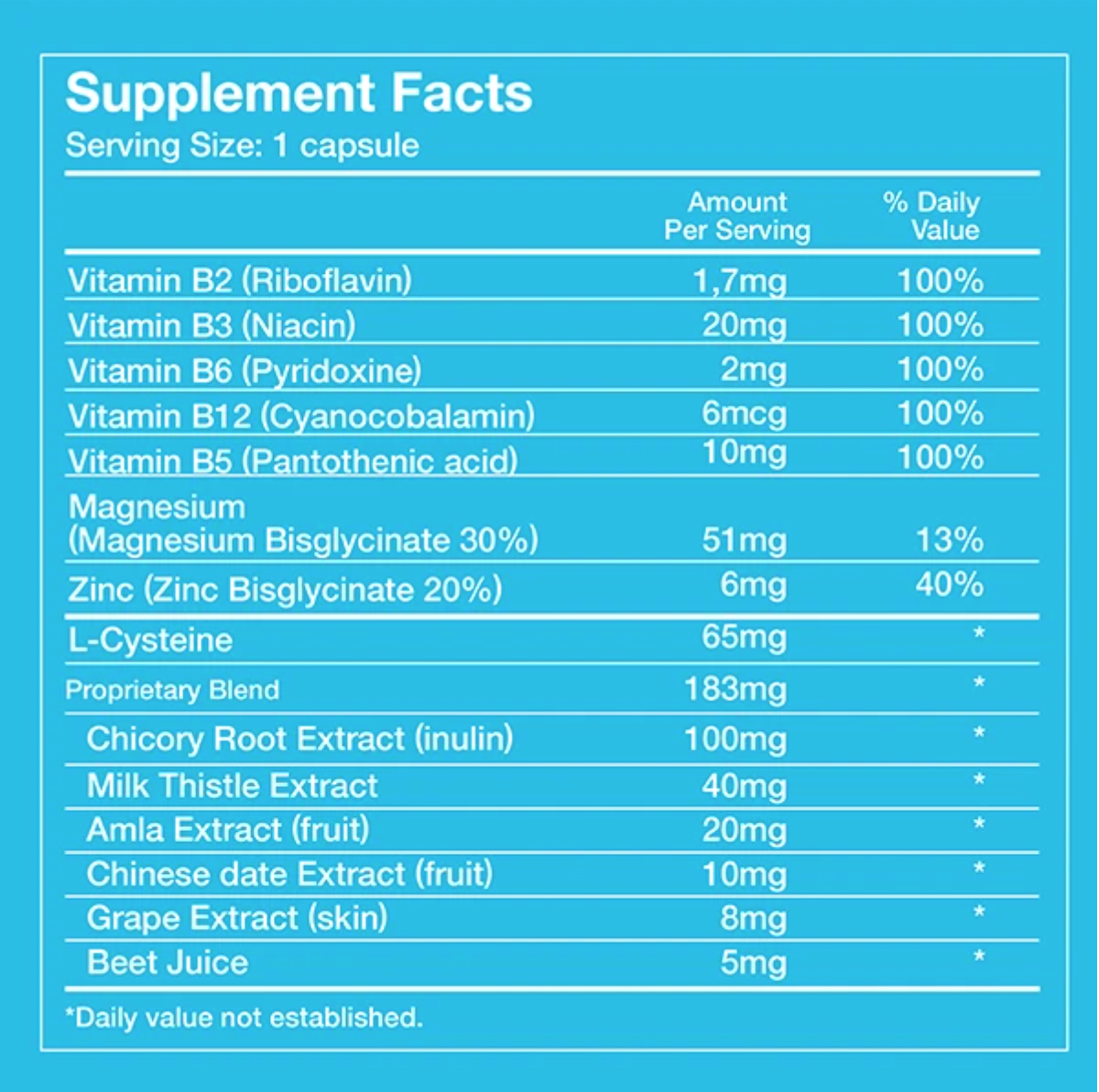 B-Vitamins

They've included a selection of B vitamins which is always good to see as they are utilized by your liver to break down alcohol. Unusually, they've not included vitamin B1 (thiamine) which is one of the main B vitamins involved in the metabolism of alcohol. In fact, studies have shown that binge drinking drops vitamin B1 levels and not much else.(1)
Chicory root
Chicory root appears to be one of the main ingredients in Over-EZ pills. That's because they include 100mg of it which is more than anything else in their supplement.
Fresh chicory root is composed of 68% inulin by dry weight. It acts as a prebiotic, meaning that it feeds the beneficial bacteria in your gut.
At the time of writing, there are no studies into using chicory root for hangovers or liver health.
Milk thistle
Milk thistle is an ingredient you'll find in most hangover pills. It's shown to reduce inflammation and improve liver enzymes. Although not tested for hangovers specifically, many people swear by milk thistle for hangovers.
Amla extract
Amla extract has been researched for lowering fat levels and also in hair growth. Once again, no studies for its use in hangovers are available at the time of writing. 
Minerals
Over-EZ pills contain magnesium and zinc which is good to see. It's good to see these minerals included as deficiencies have been shown to make hangovers more severe.(2)
Aside from the ingredients mentioned above, Chinese date extract, grape extract, and beet juice are included at doses of between 5-10mg. 
What's missing?
So, now that we've taken a look at the ingredients in Over EZ hangover pill, we can now take a closer look at what's missing.
The science of hangovers is complicated. Drinking too much alcohol causes damage in many different ways including, dehydration, inflammation, disrupted sleep to mention a few.
That's why when we come to choosing the best hangover supplements, we like to make sure all angles are covered. Here are some ingredients that we also like to see in hangover pills:
Ginger – Natural anti-sickness remedy that's ideal for hangover nausea.
Korean ginseng – Shown in studies to speed up alcohol metabolism.
Piperine – increases the absorption of B-vitamins among other nutrients.
Prickly pear – Researchers think that prickly pear is high in antioxidants called polyphenols. A study in 2004 showed that prickly pear improved hangover symptoms by reducing inflammation.(3)
Dihydromyricetin (DHM) –  Dihydromyricetin is a popular hangover pill ingredient as it's been shown in research studies to speed up alcohol metabolism.
Vitamin B1 – It's unclear why vitamin B1 was omitted from Over-EZ as it's an important ingredient included in the best hangover pills.
How do you take Over-EZ pills?
The instructions are that you should take one capsule before or with your first drink.
Over-EZ prides itself on requiring just one pill to combat hangovers instead of up to six pills (3 before drinking and 3 after) when compared to its competitors.
However,  by taking only one pill, some of the doses will obviously be lower than usual.
Over-EZ customer reviews
At the time of writing, Over-EZ has 114 customer reviews on Amazon with an average rating of 4.3 out of 5.
The majority of the reviews are positive. However, there are some that say Over-EZ didn't work.
That's to be expected though as everyone is different and not all people will experience the same benefits with supplements.
Are there any side effects?
The ingredients in Over-EZ are generally regarded as safe to take. There are no banned substances either. So, it's unlikely you'll experience problems.
With that said, you may have allergies or intolerances to the ingredients in Over-EZ. So, if you do experience side effects, stop taking it, and speak to your doctor. The same goes for any supplement on the market.
Something else to consider
Hangovers are caused by drinking too much alcohol. The best way to prevent hangovers is by drinking within your limits, slowing down how fast you drink as well as having a meal before going out.
If you're expecting to get wasted and wake up fresh after taking Over-EZ pills (or any other hangover pill)  you'll be disappointed.
Over-EZ pill review – Final verdict
So, there you have our Over EZ hangover pill review. It's a product that includes a good selection of vitamins and minerals. It's one of the more popular hangover pills on the market with good reviews.
If you're interested in finding out what the best hangover supplements on the market right now are, follow the link below.