Today I am going to post my complete review of Drinkwel Multivitamins, dubbed "The Multivitamin for People Who Drink" which contains Kudzu Flower, Milk Thistle and N-acetyl Cysteine
I'm starting to get the hang of this whole hangover cure product review thing, it's not that hard after all. Essentially, I get as hammered as possible and then take one of the many hangover aid products out there in order to help recovery (or perform whatever claims the product has).
I then post the reviews here for your enjoyment information in order to help your buying decisions.
Today, I'm posting my official review for Drinkwel multivitamins, keep reading to find out if they helped with my (vicious) hangover.
What Is Drinkwel?
Drinkwel is dubbed by its creators—two UC Berkeley graduates who had the product formulated by two doctors, a PhD in Biomedical Science and a Doctor of Naturopathic Medicine—as the first daily multivitamin for healthy people who drink alcohol.
Drinkwel's serves to replenish nutrients, support healthy liver function, and helps your body process alcohol induced toxins.
These are some pretty strong claims for what does, on the surface, seem like a hyped up multi-vitamin pill. There is an iron-clad, feel healthier guarantee so I figured its still worth a try.
What's In Drinkwel: Ingredients Breakdown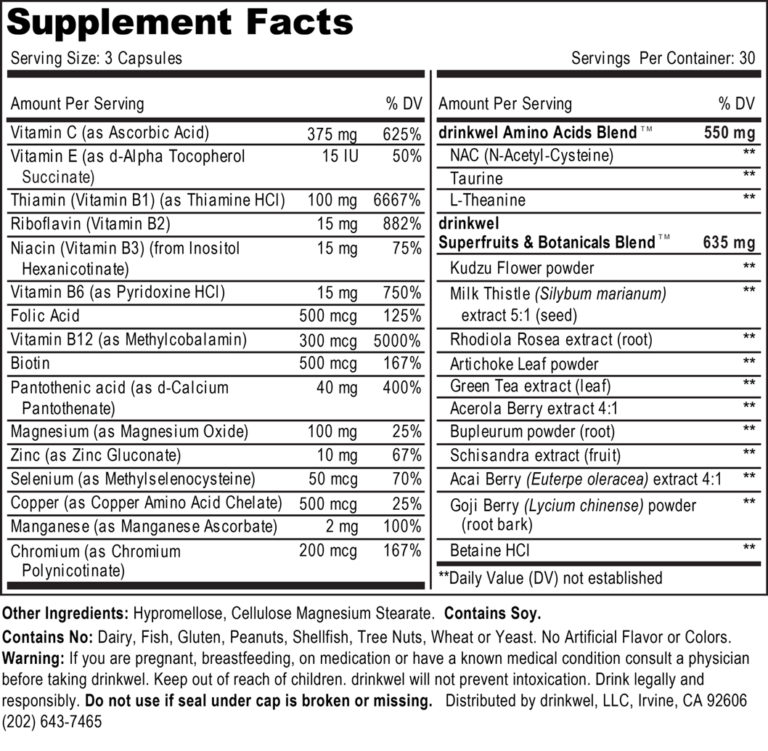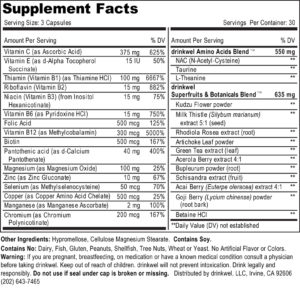 The ingredients list for Drinkwel is pretty lengthy and resembles your typical multivitamin. Here's the key ingredients list:
Milk Thistle and Artichoke to support healthy liver function, protecting the hepatocytes (liver cells) and promoting healthy detoxifying. Kudzu, Green Tea and Schisandra are also included to support liver health.*
Amino acid N-Acetyl Cysteine and Taurine to assist the body in metabolizing alcohol-induced toxins.*
Replenishment of several key vitamins and minerals that may become deficient with continued alcohol consumption: Vitamin C, Thiamin, Vitamin B6, Folic Acid, Riboflavin, Copper, Magnesium and Selenium.*
A full Vitamin B-Complex to aid metabolism and maintain energy. Vitamin B6, Folic Acid, Vitamin B12 and Biotin all help support normal energy levels.*
Superfruits such Acerola, Goji and Acai that help neutralize free radicals. These berries have antioxidant properties that support healthy liver metabolism and detoxification by scavenging free radicals.*
Loaded with antioxidants, amino acids, vitamins, minerals, and our proprietary Superfruits & Botanicals Blend, this is NOT your typical multivitamin.
And the ingredients from the Amazon page:
Vitamin C (as Ascorbic Acid), Vitamin E (as d-Alpha Tocopherol Succinate), Thiamine (Vitamin B1) (as Thiamine HCL), Riboflavin (Vitamin B2), Niacin (Vitamin B3) (from Inositol Hexanicotinate), Vitamin B6 (as Pyridoxine HCL), Folic Acid, Vitamin B12 (as Methylcobalamin), Biotin, Pantothenic Acid (as d-Calcium Pantothenate), Magnesium (as Magnesium Oxide), Zinc (as Zinc Gluconate), Selenium (as methylselenocysteine), Copper (as Copper Amino Acid Chelate), Manganese (as Manganese Ascorbate), Chromium (as Chromium Polynicotinate), NAC (N-Acetyl-Cysteine), Taurine, L-Theanine, Kudzu Flower powder, Milk Thistle (Silybum marianum) extract 5:1 (seed), Rhodiola Rosea extract (root), Artichoke Leaf powder, Green Tea extract (leaf), Acerola Berry extract 4:1, Bupleurum powder (root), Schisandra extract (fruit), Acai Berry (Euterpe oleracea) extract 4:1, Goji Berry (Lycium chinense) powder (root bark), Betain HCL
Safety Instructions
Contains soy.
"Drinkwel does not prevent intoxication, alcohol poisoning, alcohol abuse, or utter stupidity. Please drink responsibly. Never drink and drive! Do not consume alcohol if you are not of the legal age to do so, while pregnant or nursing. This product is not intended to diagnose, treat, cure, or prevent any disease".
"Each person is different and we recommend you carefully look over our ingredients and speak to your physician before taking this or any other dietary supplement."
Key Question: How Do You Take DrinkWel?
You are supposed to take three Drinkwel capsules daily, plus another three if you drink.
The sheer quantity of this stuff that you are supposed to consume is a bit of a problem here, in my opinion.
No one (really) likes taking vitamins, and I'm not a big fan of consuming six capsules of Drinkwel every day. With 90 pills in a bottle, taking six pills a day, you'll be out of stock in just 15 days! That's an expensive investment, although I guess the idea is that you aren't drinking that much and can stick with the three-a-day regimen predominantly.
Does Drinkwel Work?
As Drinkwel is supposed to be consumed daily, I couldn't test this supplement how I test other hangover related products, it requires a bit more of a 'time investment' in order to see if it is effective.
This was going to have to be an experiment that I carried out over several weeks, so I switched my regular daily B-complex and Magnesium vitamins for Drinkwel. After a week and a half, where I didn't notice a single change in my mood or healthiness levels, I decided to give Drinkwel a real test.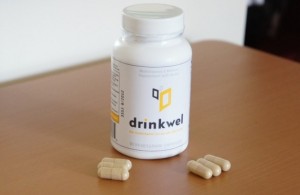 I decided to go straight for the dangerous (for me) drinks with this test: tequila, wine and the despicable Jägerbomb bomb. I started the night with a shot of tequila and a beer. Headed to a friends house, another shot of tequila and 3-4 beers. Headed to the bar, a tequila and a Jägerbomb bomb, and that's when things started to get blurry!
I got a taxi home because I was feeling more on the 'nasty drunk' side then the 'fun drunk' side. Even drunk, I still managed to follow the instructions on the back of the Drinkwel bottle, and ended up with a total of 6 pills in me, along with 3 glasses of water. Then I went to sleep.
I was pretty curious as to how Drinkwel was really going to prevent that morning hangover after all of this drinking. It wasn't going to help with dehydration, as it's just a pill. When brain cells are dehydrated, they shrink while stretching your nerve endings, which causes those pounding headaches.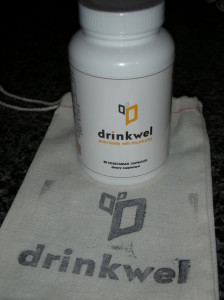 I thought maybe my liver would maybe soak up all that alcohol, or the B vitamins would flush it cleanly from my body, leaving me perky and bright…
All wrong! I woke in the late morning feeling horrible! A pounding headache, cotton mouth and nausea – all of the hangover symptoms where there.
Drinkwel might have brought the pain down from a 10 to maybe an 8, but all I could really tell was it was still painful, queasy and draining in the morning.
I continued taking the capsules for another 2-3 days and then switched back to my regular vitamin routine – I'd got all of the information I needed.
What Other People Think Of Drinkwel
I'm only one guy, managing a little website from my living room computer, so I thought I'd browse the net and see what other people though of Drinkwel too, to keep this review fair:
The first day I tried these was during an alumni block party. I took three of the Drinkwell pills throughout the course of the day. My day of drinking started at noon with keg beer, however the day eventually lead to Jägermeister and vodka shots. Let me also clarify, I was drinking Natural Light beer and Aristocrat vodka all day, which are both beyond bottom shelf drinks that guarantee a hangover. My partying lead into the night to a few bars afterwards and concluded at about 3AM. Just before I went to sleep, I pounded a glass of water and took three of the Drinkwel pills.

Normally after a night of drinking I wake up feeling like I haven't slept at all with a pounding headache. This was different, I woke up feeling great. Drinkwel is no joke, I couldn't believe it. There was no headache either. I couldn't believe it, and the best part about it was that I had a full productive Sunday to get ready for the week. This was unusual since I previously had not woken up before 4PM on a Sunday. Drinkwel gives new meaning to college, it's like a superpower. If you like to party like a champ, don't forget these for recovery. And let's remember that I don't think DrinkWel pills are intended to or can completely prevent a hangover. They're supposed to minimize the negative effects of alcohol. That means that instead of waking up feeling groggy, tired, and lethargic, perhaps instead you wake up feeling like you would on a normal day. The Drinkwel vitamins are also a great gift to buy for a college student.
—College Broke Me on July 20, 2013
I tested these out one Friday night, and following the recommendation to take 3 of them, I woke up the next morning feeling way worse than I could ever recall and haven't tried that since. Taking one with a lot of water helps, but I couldn't really notice much of a difference between just staying properly hydrated and taking any of these. Recommend being careful taking more than 1 or 2.
—Jonathan May (Santa Clara, CA), Amazon on January 2, 2014
I "think" it works

I didn't know I was going to be drinking one night so I did the opposite of a lot of reviews and came home and took two. I didn't do anything more other than drink a full glass of water with them.

The next morning I woke up and felt standard hangover feeling for me, I was kind of disappointed since I was going in to work that day. Normally when I have to get up and go in to work like that my hangover lasts quite a while and I just eat crackers and drink water all day until I get home. This time it only took a few hours after I woke up for me to start feeling decently better… I'm guessing that is mostly due to these but it is hard to say.

Another night I went to drink and took two before going but didn't wind up drinking all that much so it may just have been because of that that I woke up with no hangover.

I am on medication now that makes it so I can't drink but in about 3 weeks I'll be able to try it for real with the full dose (2 before and 2 after) and give a full review. If it works well I will definitely give it 5 stars but right now the scientist in me isn't sure if it is actually the product working or just chance.
—J. Miller on Amazon, January 23, 2013
These reviews mostly match my 'meh' type response to drinkwel, yes it provides vital nutrients and minerals that are going to be depleted when you drink alcohol, but no more then a regular multi-vitamin will and it doesn't have much of an effect beyond that (not enough to call it a 'multivitamin for drinkers' anyway.)
The Final Verdict
This has been a strange review, mostly because when I review other hangover related products, they make big bold claims that there product sort of goes 50-60% towards meeting.
Drinkwel, however, doesn't really make massive claims, they claim to be just a multivitamin, and that's all the product is: an everyday multivitamin.
Drinkwel would probably be best for a pretty heavy drinker who might not take their health very seriously as a way to get those vital nutrients that their body needs. It's an introduction to vitamins for drinkers, rather then an aid for hangovers, in my book.
Overall Score:

Best Price: $39.95 & FREE Shipping
If you want to try Drinkwel, it is available on Amazon for the best prices I've seen.