Purple Tree Hangover Pills are designed to combat alcohol's negative effects on your body by supplying your liver with the raw materials it needs.
The Hangover cure supplements niche is growing with new products coming onto the market claiming to be the best.
With so many products, it can be hard to decide which one is right for you.
Are Purple Tree pills worth investing in?
In this article, we're going to take a closer look at this product and rate it based on customer reviews, price and most importantly, the ingredients formula.
Purple Tree Pills –

 

The basics
Purple Tree is manufactured in California, USA in a GMP (Good manufacturing practice) facility.
They pride themselves on using all-natural ingredients in order to prevent you from suffering the worst hangovers.
By doing so, they have used a combination of vitamins, minerals and amino acids that work together to restore and replenish liver function.
The most obvious thing to point out is that a 30 capsule bottle of Purple Tree pills costs just under $10. This is significantly cheaper than the other competitors.
With such a cheap product, we can't help but wonder whether sacrifices were made in their formula to keep costs down. 
To assess whether  Purple Tree pills actually work, we need to breakdown exactly what it's made of next. 
Purple Tree hangover cure pill ingredients
Let's begin this part by taking a close look at the actual ingredients formula as shown on the label.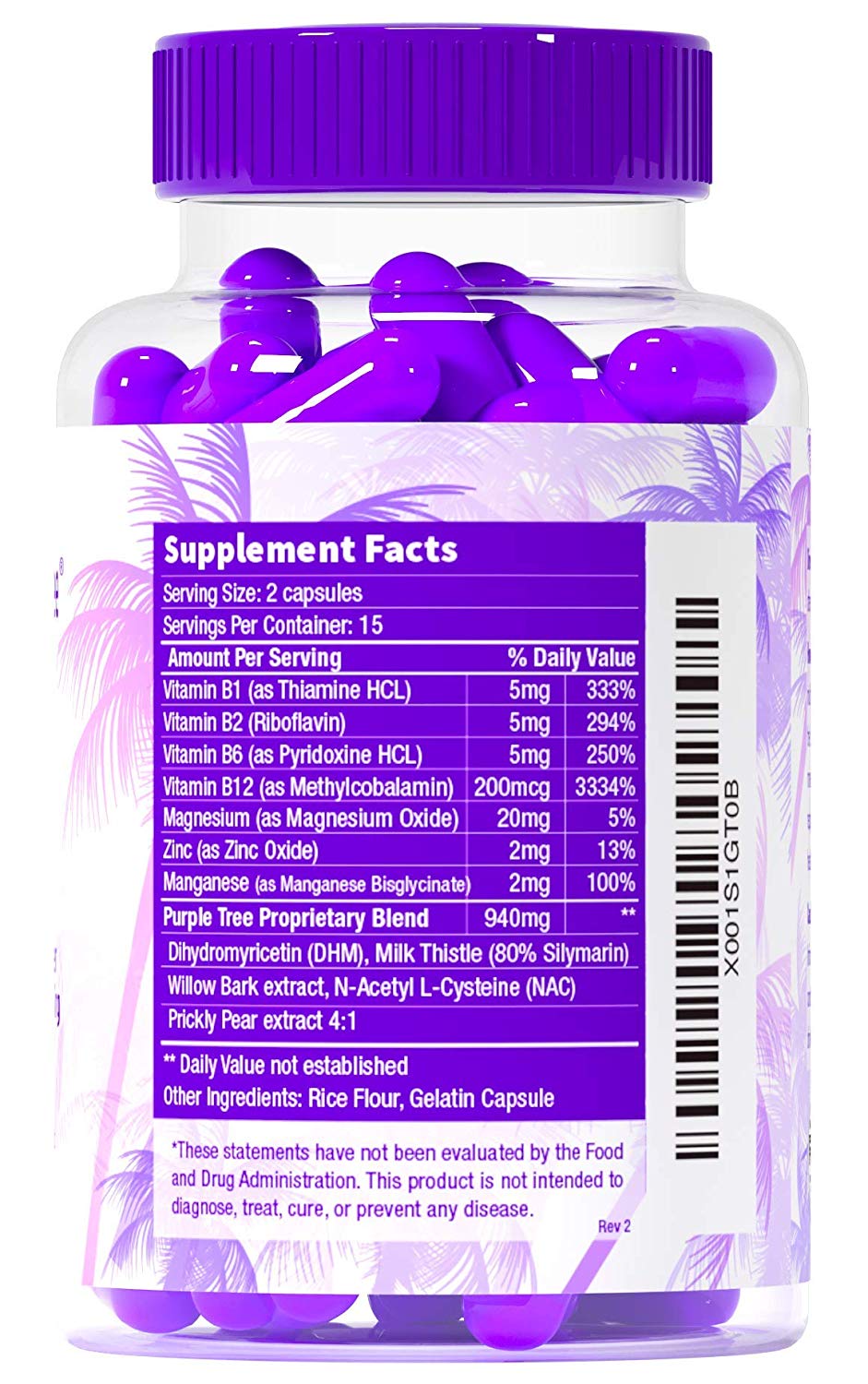 B Vitamins
Purple Tree pills contain vitamin B1, B2, B6, and B12. The first three are important cofactors required for your liver metabolic enzymes to work properly.
On the other hand, vitamin B12 is not so useful as it's a water-soluble vitamin which is important in synthesizing DNA for your red blood cells and nervous system. Also, if you have a balanced diet, you usually have a few years worth of B12 stored in your liver.
Magnesium
We live that Purple Tree have included magnesium in their formula as levels of this mineral are known to drop after alcohol consumption. That being said, they've only included 20mg which is 5% of your daily required value.
Dihydromyricetin
Also known as DHM, this ingredient has been hailed as the savior to your hangover woes. This is because recent research has shown that it increases the rate at which your liver clears alcohol from your bloodstream. Therefore, in theory, leading to less of a hangover.
Milk Thistle
You'll find milk thistle in the majority of liver health supplements because of its antioxidant and anti-inflammatory properties. It's a great ingredient to have in a hangover pill.
Willow Bark Extract
Willow Bark extract has been used for centuries to help with musculoskeletal pain. Its active ingredient is salicin and modern-day aspirin is originally derived from this.
Alcohols toxic by-products cause inflammation from free radical damage. Therefore Purple tree has included this ingredient to counteract these effects.
Prickly Pear Extract
This is another popular ingredient as studies have shown it to reduce the severity of hangover symptoms. Prickly pear is high in polyphenols which are thought to have anti-inflammatory properties.
What's missing?
Vitamin B3
We would have liked to see the inclusion of vitamin B3 because of its the precursor to a coenzyme called NAD. This enzyme is involved in the breakdown of alcohol and could be more useful than B12.
Ginger extract
One of our favorite ingredients, ginger is a well-known natural anti-sickness remedy. It's a useful ingredient that may help with unsettled stomachs after drinking.
Piperine
Piperine is a bioavailability enhancer which means it can increase the absorption of other ingredients in your supplement. In particular, it increases the absorption of B-vitamins which Purple Tree pills could benefit from.
Proprietary blend
Purple Tree hangover cure uses a proprietary blend which, ideally, we wouldn't want to see in our choice of supplement.
It is a mixture of ingredients that states what is included in the formula, but not the exact amount. It's a way of cutting costs and leaves us as the consumer without knowing the exact doses of each ingredient.
To be fair to Purple Tree Hangover cure pills, their product is so cheap that we understand why they've used one.
Vegetarian capsule
Now this is not necessarily a negative but Purple Tree have opted for a gelatin capsule wh. This is personal preference, however, we prefer plant-based capsules.
How do you take Purple Tree Hangover cure?
The manufacturers recommend taking 2 to 3 capsules before or just after drinking alcohol. Each bottle contains 30 capsules so therefore it should last you around 10 night out if you decide to take 3 capsules.
As with other hangover cure supplements, it's important that the dose is taken before or just after drinking. The reason is, if you wake up already hungover, it's already too late. The damage is done and there's no going back.
Are there any side effects?
Purple Tree Hangover pills are made from all-natural ingredients that have a low side effect profile. Generally speaking, it's safe to take.
That being said, everyone is different and may have reactions to certain ingredients. If you do experience side effects, it's important to stop taking it and discuss with your physician.
We also applaud the use of rice flour as a natural flow agent. During the manufacturing process, flow agents are required for the machines to work smoothly and pack the supplement capsules.
Most manufacturers will use magnesium stearate which is an artificial cheap flow agent that can cause side effects. So we are happy to see Purple Tree have gone for the better alternative.
Do Purple Tree pills work?
Purple Tree has created a good supplement with most of the ingredients you'd want to see in an effective hangover cure pill. At this price point, it's certainly the best value for money.
Purple tree hangover cure customer reviews
At the time of writing, Purple Tree Pills have 4.1 out of 5 stars on Amazon with 101 reviews.
Overall, the reviews are positive. There are some people who mention it didn't work for them. But this is to be expected with any dietary supplement.
Anything else to consider?
When it comes to hangovers, prevention is key. Sticking to the basics by drinking plenty of water while drinking and having a meal before going out is essential to reduce hangover severity.
If you're expecting to get wasted and wake up fresh after taking Purple Tree you'll be disappointed. In fact, this will be the case with any hangover supplement on the market.
Conclusion
That brings us to the end of our Purple Tree hangover cure pills review.
At just under $10 per bottle, it's a real bargain. It's a good product with great reviews.
Check out our list of the best hangover products on the market by following the link below